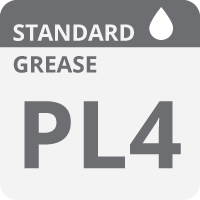 Environmentally friendly formulation contains no antimony, barium, chlorine, phosphorus, zinc or free sulfur
Inherent protection from rust and corrosion
Superior water washout and spray off
Registered : NSF H1, Kosher and Halal
PL4 Grease provides superior film strength for slower moving applications under severe operating conditions such as water, steam, high temperature and load.
The excellent shear stability of this grease in combination with a unique tackiness agent provides a long lasting durable film of lubricant for bearings, bushings, open gears, chains and other exposed surfaces such as slides, rollers and cam followers. It can also be used as an antirust film and as a release agent for gaskets and seals.
Automatic grease lubricator
General chassis lubrication, for equipment where incidental food contact or human contact is expected
Conveyor bearings and enclosed gears in high humidity food processing environments
Packaging equipment in beverage processing facilities such as dairies, breweries, and bottling plants
Farm equipment used in the maintaining and harvesting of crops
Long Service Life : Excellent resistance to Water/Steam washout
Longer lasting film allows less lubricant usage and extended re-greasing intervals
Unique thickener combination resists oil bleed problems often encountered using conventional food grade lubricants
Excellent stability helps retard softening of grease during high shear mechanical action often experienced in high